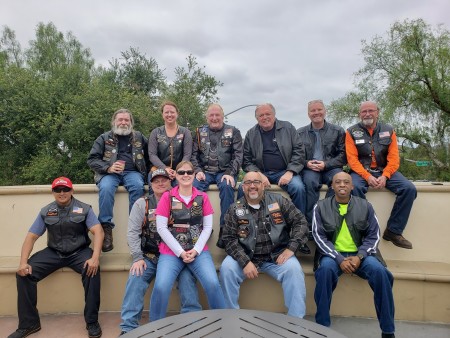 In order to help all riders feel comfortable in a group riding environment, San Diego H.O.G.® is offering a Mentorship Program. This program is designed to help you feel confident and comfortable riding your motorcycle in a group environment. This is open to all riders and will offer the following:
"Take 10" Rides
As the name implies, this ride will be limited to 10 riders in order to ensure that everyone feels comfortable and the Road Captains can give more attention to each rider in the group. Also, this ride will be kept at an easy pace avoiding all freeways. The route will be relatively short and will start and end at the dealership with a lunch stop around the halfway point.
We start and finish the ride at the San Diego Harley Davidson on Morena Blvd. We will meet at 9:00 a.m. with a thorough ride brief before we begin our leisurely trek. As this ride is limited to ten riders (not including the two Road Captains that will lead and sweep the ride), please fill out the form below in order to ensure your place in the group.
One on One Mentoring
A Road Captain or experienced rider will buddy up with you to help keep you safe and give helpful guidance when needed. This mentor will be glad to ride with you from your home, to the dealership, throughout the planned ride, and then back home. This way, you can develop a "feel" for the way this person rides and become comfortable riding with that person.
Individual Practice Rides
San Diego HOG is doing a pretty good job of filling the calendars on the weekends. So maybe a mid-week ride is better suited for getting a few miles under your belt. Fortunately, we have many Road Captains and experienced riders that are available and would enjoy nothing more than the opportunity to get out and ride.
EMAIL MENTORSHIP